Everyone else has a web site, so I figured, why not me too? On this site I'll describe myself and share my interests and ideas.
My Favorites
Favorite Band or Musician: Clay Aiken
Favorite TV show: Planet`s Funniest Animals
Favorite movie: A Shot in the Dark
Favorite book: HeartLight
Favorite sports team: Hamilton Tigercats
Favorite food: Stromboli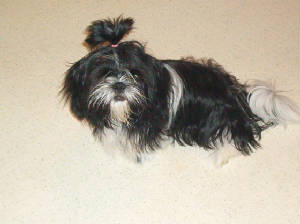 This is my absolutely adorable little dog named Nino! He is very sweet!